With a completely new design, sophisticated materials and three exciting power train choices, the 2018 Honda Accord is coming this fall. The new 2018 Accord was revealed to media in Detroit, Michigan, this past Friday, July 14th. The dramatically restyled and re-imagined new Accord features an available new 2.0L turbo engine paired with either a new 10 speed automatic or 6 speed manual transmission, and an upscale new interior with a host of desirable features. The new Accord goes on sale this fall and we're ecstatic!
The 10th-generation Accord is new from the ground up and features a lighter and more rigid body structure, an advanced new chassis design, two all-new, high-torque direct-injected and turbocharged engines, the world's first 10-speed automatic transmission for a front-drive car and a new generation of Honda's two-motor hybrid technology, along with a host of new safety, driver-assistive and connected-car technologies – all wrapped in a more sophisticated, sleek and athletic design with top class interior space and comfort.
"We are redefining the Honda Accord for a new generation of buyers by bringing something unexpected that challenges the idea of what a mainstream sedan can be," said Jeff Conrad, senior vice president of the Automobile Division of American Honda Motor Co., Inc. "Even as we advance core values like great driving dynamics, safety performance and efficiency, the distinctive design of this all-new 2018 Honda Accord will help it appeal to both head and heart in equal measure.
Next-Generation Accord Design and Packaging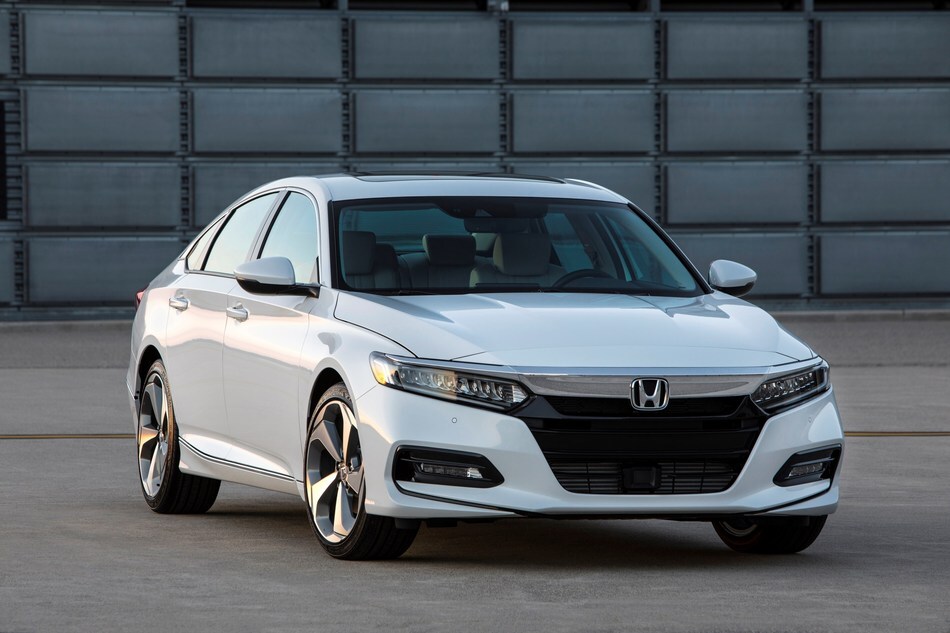 In re imagining the Accord for its 10th-generation rebirth, Honda designers and engineers went back to the fundamentals of proportion and stance with a sporting and athletic appearance, like a sprinter in the blocks. The approach reinvigorates classic Honda design principles, such as a low and wide body, expansive visibility and sporty seating position, and then translating them into a thoroughly modern, sporty and premium Accord sedan design.
The new Accord features a longer wheelbase (+2.16 inches), a lower overall height (-0.59 inch) and wider (+0.39 inch) body, wider wheel tracks (+0.20 in. front, +0.79 in. rear), a shortened overall length (-0.39 inch) and lower, sportier seating position (-1.0 inch front and -0.79 inch back). A sweeping greenhouse positioned farther back on the body completes the new stance and proportion of the next-generation Accord. The combined effect of these changes is a more premium look, highlighted by shorter overhangs, a bold front fascia, a long and low hood, and a visual center of gravity moved closer to the rear wheels.
Viewed head-on, the new Accord's greenhouse also angles in more dramatically from the window sills to the roof, further emphasizing the wide lower body, while inside the cabin the seats have been moved slightly inward that contributes to improved hip, shoulder and head room while enhancing occupants' freedom of movement. Also, the longer wheelbase allowed designers to move the second-row seats substantially rearward, giving Accord almost 2 extra inches of rear leg room to offer one of the most spacious rear seating areas in its class. Overall passenger volume is increased by 2.5 cubic feet to 105.7 (based on LX). Trunk space has also been increased by nearly one cubic foot on the 1.5-liter and 2.0-liter engine powered Accords and by 3.2 cubic feet on the Accord Hybrid to a top level 16.7 cubic feet (+0.9 cu.ft.).
Elegant and modern exterior detailing compliments the Accord's new, more dynamic design. The bold and upright front fascia is highlighted by Honda's signature chrome wing front grille positioned above a large main air intake and flanked by available 9-lamp full-LED headlights and LED fog lights. The chiseled hood features a distinctive and aggressive raised center, and the deeply sculpted body sides enhance the visual length and strength of the lower body.
Further, a new laser brazing process that joins the dramatically arching roof to the body side panels creates a clean appearance with no garnish over the rain channels. The similarly low and wide rear view is finished off with an up swept deck lid, distinctive LED light-pipe taillights and cleanly integrated dual exhaust ports. Overall aerodynamic efficiency is improved by approximately 3 percent (based on EX trim) to make it the most streamlined Accord yet.
For more details on the all new 2018 Honda Accord click
here
Stay up to date with our newest inventory
here
**For more information, visit Kelly Blu Book's KBB.com. Kelly Blue Book is a registered trademark of Kelly Blue Book Co., Inc.
Car and Driver, January 2017, 2018 Honda Accord